Finding a Topic #2 & Real Neat Blog Award
The other day when I was talking about finding a topic I neglected one other means that might occasionally come your way. When you're lucky enough to literally have a post thrust your way, essentially ready to go. My feelings about these things are a bit mixed, as much of the time they carry at least some of the marks of a chain letter.
Where I've landed is essentially to consider each on a case by case basis. Take a look at the rules and the flexibility they offer. The two main things I'm looking for are:
The rules allow for discretion around tagging other people. Anything with a hard requirement to tag x other people I'll pass on.
The questions themselves — do I think they might result in somewhat interesting answers?
If the answers are good on both of those things — then it's time to remember the community aspect of Blogging. :)
Real Neat Blog Award
Right! So the idea behind this one is to peel back the curtain a little and let readers perhaps find out a little more about the person behind the keyboard.
It follows a theme of 7's — answer 7 questions, create 7 of your own, tag 7 people to answer your questions and carry it on. Most important to me is that this isn't mandatory. If you don't feel comfortable tagging people — don't. Make it an open invite, or do less. There is no threat upon your luck or the love life should you choose to ignore it. ;)
I was just tagged by Lothari of the Games & Stories blog — a fairly brand new blog looking at critical analysis of game stories. Lothari has just recently finished up her series on the first Assassin's Creed game, and it makes for a great read.
But you see, a little while ago I'd also been tagged by Angie over at Backlog Crusader! I'm not quite sure how I missed it, since I remember clearly reading her answers at the time. I found out now I'd been tagged in it via revisiting the post from Lothari's link. Hah.
Anywho!
My Answers!
Since I've been tagged twice, I figure I can choose which question to answer. The rule I'll set myself is that I can only choose between the options of the same numeral. i.e., Answer one option from 'Question 1', one option from 'Question 2' etc. Not just willy nilly any question anywhere.
That would be madness!
1. What was the origin of your most long term geeky interest?
When I was younger I used to go on holiday and stay with another family in Waihi Beach. A beautiful area with natural bushwalks, diving points and even caves. Caves where I had my first (and so far only) encounter with a wild penguin.

One year when we went — something was different. There was a box that showed moving pictures. But unlike TV, these pictures were being controlled! By us! Using things called a Mouse and Keyboard.
That summer we still spent a bunch of time outside. At the beach, going eeling in nearby creeks under bridges. But come the evenings, we'd find our way around this strange device called a PC, taking turns to fail horribly in Dangerous Dave, Sneakers and other titles of the time.
I didn't think overmuch of it at the time — I was fascinated for sure, but the days were still the more exciting parts to me. But the seed was planted, and shortly after that visit we had one of our own in the house. A state of the art 386SX, running at a whopping 33MHz with 'Turbo' turned on. Commander Keen, and Duke before he went 3D were my main games starting out. :)
2. Who wins — pirates of ninjas?
If we put aside for the moment the question of why they're fighting instead of joining forces against the Samurai — and also any questions on why they might be in each other's territory?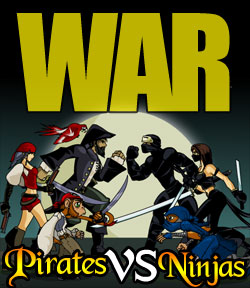 Then Ninjas, hands down. Pirates just don't the necessary discipline or training to take out even a half-decent Ninja.
3. If you were going to live forever on an isolated island and could only have access to three types of food, what would you choose?
Forever? Holy shiz. Well then, If we're talking 'types' as in a category of food, then I think I'd want to make sure it offered me some degree of variety over the many, many years to come.
So! First then, Garden Vegetables — ship me off with a wide array of seeds, please. I'll build some trellising for tomatoes, bean and pea vines. Setup areas for potatoes, pumpkins. Heaps more ideally.
Second, following a similar vein — Orchard Fruits — saplings for oranges, apples, peaches (mmm, peaches), even lemons please!
Finally — and apologies to any vegetarian friends out there who until now might've been happy with me — I'd like some array of edible livestock. Ideally quite a range, but if I was to narrow it down to a single type then Cows. Beef, milk and possibly cheese if I had the chance to research how to make it before leaving. Although I guess with an infinite number of years could probably eventually work it out. ;)
I was going to put a picture of a cow in here, but just couldn't do it.
4. What language, real or fictional, would you most like to learn?
Japanese, I think.
Outside of Latin it was the language I got on the most with at school. It's a country I'd really like to visit — and that besides, who wouldn't like to be able to appreciate anime without subtitles? :D
(Don't even come at me with that 'dub' stuff either. Urgh. My youngest recent discovered Naruto, but is watching it with the English VO. *sobs*)
5. What is your favorite blog post you've written and why?
Narrowing this one down to a few options wasn't hard — picking the overall and final favourite was much more difficult. But in the end I settled with:
Changing Times, Changing Gamer
This started with a post of Pete's talking to how over time he had found himself needing more from games to stay interested. Bhagpuss recounted a tale in a similar vein on how he learnt to appreciate games for what they were and just have fun.
It made me finally reflect on how my own preferences as a gamer had changed over time — and not always in a conscious manner. There was a certain internal discord created when elements once seen as an absolute core piece of your gamer identity are no longer what you consciously believed them to be.
It's a topic that fascinated me, and this one even resulted in a bit of a follow-up post. I suspect there may be more in this idea well to emerge over time, too.
6. What is your biggest content creation dream?
I'm still very much in a process of discovery and learning.
I don't yet know where the overlap on the Venn diagram of 'topics I enjoy covering' and 'topics this community are interested in reading about' lies. I'm also still experimenting with layout and visual style a fair bit.
Hell, most importantly of all?
I don't yet know what my written voice sounds like.
I still need to find it. Do I want to include more humour? What style, if so? Many hundreds of thousands of words of experimentation and discovery lie before me til I know, I reckon.
So my biggest content creation dream, is getting there. To a place where I understand what my written voice is. Not only that, but also liking that voice. If I can get there, alongside understanding that venn diagram of content — I'll be at the place of my dreams.
From there? Who knows. :)
7. What's something your readers wouldn't be able to guess about you?
Exact height and weight in one try. Ooh, or hair style! Um… … …
Seriously, I struggled with this one quite a bit.
Then I remembered a post I read and commented on today, from The Well-Red Mage on the topic of guilty pleasure games.
Short of reading that comment, it might be hard to guess that I have a goodly number of guilty-pleasure shows. I love me some trashy Supernatural-esque shows from time to time. (Currently watching Wynonna Earp on Netflix, for example.)
They don't form the sum total of what I enjoy watching, thankfully. That would probably drive me quite insane. But when the mood strikes, sure. I'll sit down to a round of some CW-ish show for a bit. (*Recalls Smallville* Somebodeh saaaaaaave meeeeee.)
My Questions and Nominations
First to be clear — the 'nomination' is up for anyone at all who cares to participate. But I'm going to specifically tag the Blaugust folk who are 'new' to this whole thing (and appear to be ready for guests. There are a few still blogs at the time of writing this that are in the works of getting setup and writing a first post). :)
On the flip side — no-one should feel any obligation to partake if they'd rather not, or to tag anyone in turn if they do if they'd rather not. :)
If you're not on this list, but are ready to participate when you see this, please consider yourself there! :D
Now, onto the questions:
What hobbies or interests do you have that you might not regularly include on your blog?
Are you learning any skills at the moment? If not, what would you like to learn?
If you were invited on a one-way trip to Mars to establish a new colony, would you go?
What is the one thing that you most want readers to come away from your blog with? A feeling, thought, or understanding.
What excites you most about having a blog?
If you could make one thing from a book, TV show or movie real, and in your possession, what would it be?
They say everyone has at least one book in them — if you were to write a book, what would it be about?
Enjoy! And thank-you again to both Angie and Lothari for the lovely tag! :D